Group of Figures on the Way – Voices from the World
Sculpted work by MARCO DI PIAZZA  -  San Gimignano/Bonn, 2010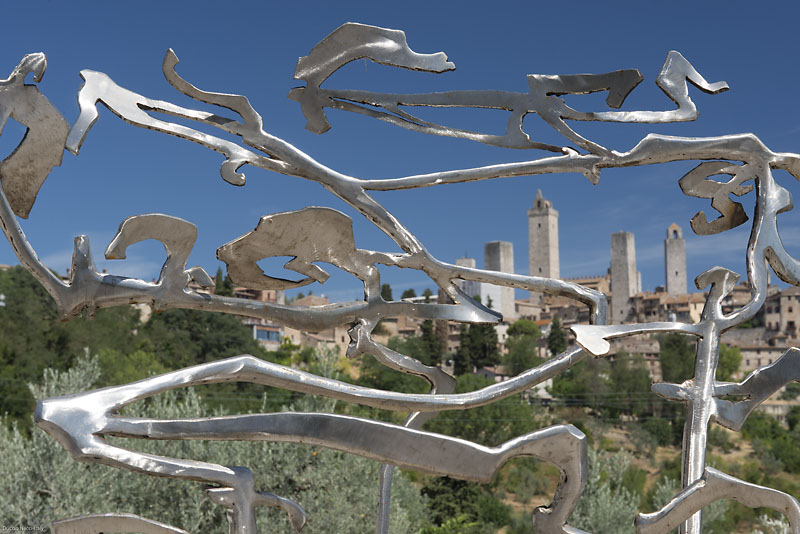 The story of a sculpture
I am a sculpture in love with encounters. I am four meters tall, and my father is Marco Di Piazza, a modern-day Gepetto who forged me out of steel. I am his Pinocchio, even if I have a different name: "Group of Figures on the Way – Voices from the World." My mothers are many: tolerance, the journey towards another, respect for diversity. On 30 September 2012 I will take up residence at the entrance to San Gimignano. I'll live forever in this town open to the world, which in August 2009 chose me as its symbol of UNESCO's values. I took my first steps in San Gimignano, so I am returning to the air I breathed when I was no more than a thought. Now I am a sculpture, but a sculpture with legs because I will live on the Via Francigena, the ancient route of wayfarers.My father told me he thought me up a long time ago and created me in his imagination in the 1980s, in certain drawings that foreshadowed what I would become. Drawings of groups of figures on a journey towards a distant point, which were already sketching out my vision of things, my relationship with others, an eagerness to build a bridge between people which could lead also to a meeting of minds and experiences. I, who like Pinocchio love freedom and encounters, have a twin sister two and a half meters tall: the same ideas, the same features. We both originated from a small pen-and-ink drawing made in 1993. That day my father was already thinking about me, even if I was not yet born. He thought hard about me also in 1999, when he made a bas-relief for the altar in the church of Sant'Agostino with figures on a journey towards an ideal destination. My (beautiful) destiny is movement, striving upwards. I am happy to live on the Via Francigena, the route of exchange among peoples. My father always wanted me, and in January 2009, in Prague, during the International Festival of Contemporary Art, something happened that made him quicken the pace towards my actual birth. Asked to put a large sculpture on display in the urban space, my father, inspired by this city which is an international crossroads of cultures and languages, chose for his steel sculpture a group of wiry figures designed in 1993.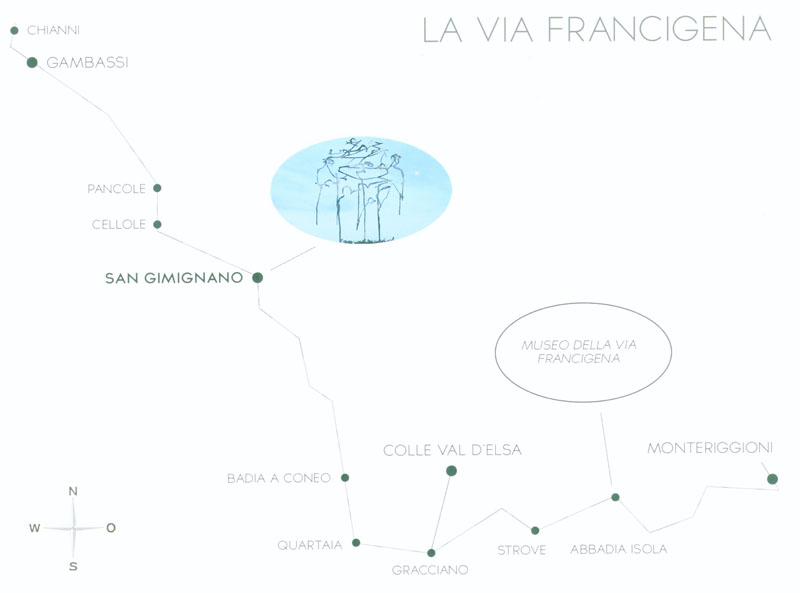 To reinforce the sculpture's power he decided to borrow a line from Gandhi: "No culture can live if it attempts to be exclusive." This thought points the way towards emancipation from the two great dramas of the twentieth century which shattered Prague: Soviet domination and the Holocaust, which has a site of remembrance in the chapel in the Jewish quarter. In that church my father felt intense, perhaps indelible emotions. When he returned from his trip to Prague, the figures on the road pushed forward even more towards the light of day, and on November 2010, between his workshops in San Gimignano and Bonn, my sister and I were born. In those same months, my sister was put on display in the courtyard of San Gimignano's ancient City Hall for the twentieth anniversary of San Gimignano as a UNESCO World Heritage site. While visitors viewed the sculpture, a background recording called "Voices from the World" read Gandhi's saying in forty-five languages. Soon after that, the experiment of a talking sculpture was repeated with me: at the end of 2010 once again in Prague, then in 2011 in Venice at the 54th International Art Exhibition.

Prague, Venice, San Gimignano, Bonn, and now San Gimignano again, where I will move in officially on 30 September 2012 for the 40th anniversary of the Paris Convention which established the list of World Heritage Sites. I shall stay in San Gimignano forever, inviting the people I meet to an encounter and a journey towards someone or something. I give heartfelt thanks to my father, my many mothers, the town of San Gimignano and its sense of hospitality, the voices of the world and of all the people whose gaze I shall have the good fortune to meet on the Via Francigena.
Italian version: Storia di una scultura